Many people think that SEO (Search Engine Optimization) and Digital Marketing are one in the same. Others liken Social Media Marketing to Digital Marketing. Yes, these are two key elements, but Digital Marketing is much more. Since SEO and Social Media are what most people think of when you talk about digital marketing, lets discuss these first.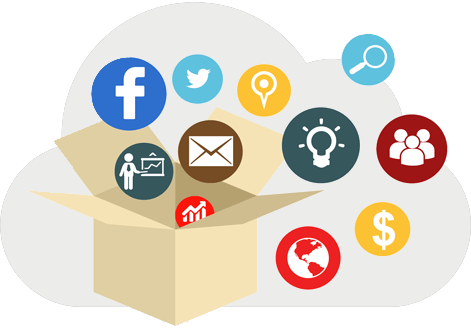 SEO is the process of affecting the order of the search results. Search engines like Google and Bing base the order of their results on what they consider most relevant to those looking for information. The search results which can be web pages, videos or local listing are unpaid and often called "organic" as compared to the paid ads displayed along with the organic results. The goal of SEO is to boost relevancy so the desired result appears earlier and ideally on the first page.
Social Media Marketing is the Internet word of mouth. Friends telling friends has always been the best form of advertising and it still is – it just uses social networks now such as Facebook, Twitter, Snapchat, Personas, Kloojj and LinkedIn to get attention, generate website traffic, to promote brand awareness, and to get people talking and more importantly buying.
Other key components of digital marketing include:
PPC which stands for Pay Per Click is one of the key ways to advertise on the Internet. Search engines like Google and Bing allow advertisers to buy ads that are interspersed with their search results. Then when someone is searching a topic or looking for information and clicks on one of these ads, that person is directed to the advertiser's website or landing page. This way advertisers only pay when their ad is working.
Email Marketing is the direct mail for the digital era. Unlike direct mail with expensive mailing costs and packaging, it's email based so it's a very cost-effective way for businesses to stay in touch with their customers and reach out to potential new customers. Organizations and marketers use Email Marketing in a number of ways: to create brand awareness, building customer loyalty; acquiring new customers and retaining existing ones; advertisements; and to communicate promotional offers. Email Marketing can take many forms such as new product announcements, press releases, email newsletters, electronic coupons, and even email surveys to show you care about your customers' opinions. Email marketing also provides an easy way to track how effective each email campaign is by capturing how many hits your website gets after a mass emailing.
Content Marketing is the creation and sharing of valuable and relevant content (generally free) with the purpose of acquiring new customers, retaining existing customers, and motivating customers to buy. The content can be delivered in a variety of forms including videos, newsletters, white papers and case studies, eBooks, press releases, podcasts, how-to guides, FAQs, photos, and blogs.
Reputation Management is the process of monitoring what other people are saying or feeling about your business and shaping public perception by influencing the information available online about your business. Reputation Management includes 3 key areas: (1) Building a good reputation for your business. This is generally for businesses just getting started, but can also be used for existing companies with no reputation; (2) Maintaining the company's good image and keeping it in the public's eye; and (3) Recovering from a bad reputation. Maintaining and Recovering use various social media techniques and self-promotion such as blogging, hiring someone to write good reviews on websites, and leveraging social networks like Facebook.
Digital Marketing is so critical to the success of your business and since Tekyz is all about your success, we decided to create a separate organization whose sole mission is digital marketing. We call this organization MasterMarket.